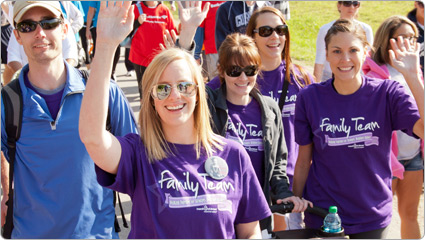 March for Babies - Colorado Springs 2013

Date:
Time: 9:00AM
Registration Time: 8:30AM
University of Colorado at Colorado Springs
1420 Austin Bluffs Parkway
Colorado Springs, CO 80918

It's America's favorite walking event! When you walk, you give hope to the babies born too soon or sick. The money you raise supports programs in your community that help moms have healthy, full-term pregnancies, and it funds research to find answers to the serious problems that threaten our babies. We've been walking since 1970 and have raised an incredible $2.6 billion! Join the more than 7 million people who participate, donate and/or sponsor. There are plenty of opportunities for day-of-event exposure, activation and education - not to mention opportunities to meet hundreds of others who are just like you!

2013 Ambassador - Emma Weber
Emma was born 13 weeks early weighing in at just two pounds, three ounces due to placenta abruption. Kimberly Weber discovered after Emma's birth that she had a hereditary disorder that causes her blood to clot too easily. March of Dimes has invested over $240,000 in funding research that explores the development of blood clots and the treatment needed to solve and prevent them. While Emma had to spend 10 weeks in the NICU before going home with her family, she is now a happy, healthy 4-year-old with a new baby brother.