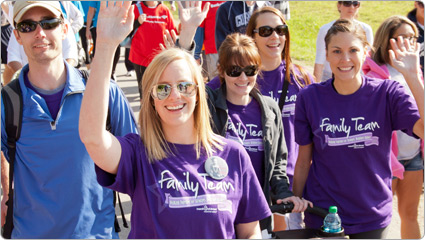 March for Babies - Fairfield 2013

Date:
Time: 10:00AM
Registration Time: 9:00AM
Jennings Beach
880 South Benson Road
Fairfield, CT 06825

Make March for Babies your tradition and help celebrate the March of Dimes 75th anniversary in 2013! Maybe you participate in March for Babies to celebrate a healthy baby in your life. Or you may walk to honor a little fighter or remember a baby who didn't survive. It could be your company gets involved and you're walking with your co-workers. Whatever your reason, we're glad you're joining in. With every step you take, you're helping babies begin healthy lives.

At Jennings Beach* in Fairfield, participants will enjoy the walk event as well as music, food, activities for the kids and more. Proudly presented by Yale-New Haven Children's Hospital.

For questions or comments, contact Aubrey Keely at akeely@marchofdimes.com or 203-692-5887.
*Please note that in 2013, Fairfield March for Babies will take place at Jennings Beach and not Penfield Pavilion due to damage from Hurricane Sandy.



Join us at Fairfield, Fairfield!
Join a team or start your own. We look forward to seeing you there!
Off I-95 at Exit 22

From the East: Take I-95 South. Take the Route 135/ North Benson Road exit 22 and continue 0.15 miles. Turn left onto North Benson Road/ Route 135 and continue 0.22 miles. Turn ri
Other locations: