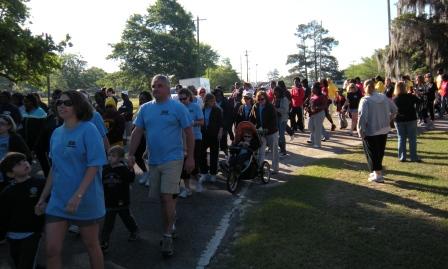 March for Babies - Orangeburg-Calhoun 2013

Date:
Time: 9:00AM
Registration Time: 8:30AM
Edisto Memorial Gardens-Art Center Shelter
Riverside Drive and Waring Street
Orangeburg, SC 29116

It's America's favorite walking event! When you walk, you give hope to the babies born too soon or sick. The money you raise supports programs in your community that help moms have healthy, full-term pregnancies, and it funds research to find answers to the serious problems that threaten our babies. We've been walking since 1970 and have raised an incredible $2.6 billion! Join the more than 7 million people who participate, donate and/or sponsor. There are plenty of opportunities for day-of-event exposure, activation and education - not to mention opportunities to meet hundreds of others who are just like you!

President Henry Tisdale; Claflin University and the 2013 March for Babies chairman asks you to join us for the 2013 March for Babies for Orangeburg and Calhoun Counties! "I am pleased to serve as the 2013 Chair for the March for Babies," said President Tisdale. "I believe if we can give a child a healthy birth, we have a positive impact on their future quality of life. When you participate in March for Babies, you give hope to more than 9,000 babies born to soon each year in South Carolina. The money raised supports programs in our state and is significant in helping moms have healthy, full-term births. It also funds research to find answers to the problems that threaten healthy births.
"I challenge the businesses and families in Orangeburg and Calhoun counties to join me in this fundraising effort so that more families will realize the joy of having a healthy baby."

Our 2013 Orangeburg-Calhoun Ambassadors: The Caddell Family

Laruen and John were excited to find out they were having twins. At just 8 weeks they were told that the boys were sharing the same sac. Additional ultrasounds were ordered to monitor the twins during the pregnancy. Lauren was told that the boys were at risk because of a cord accident or "Twin to Twin" transfusion. At 33 weeks Lauren was given a C-section to deliver the boys. The doctor had showed John and Lauren how the umbilical cord was in a complete "True Knot". He said that Reese and Riley were Miracles! The boys both
received a total of 4 rounds of Surfactant during their stay in the NICU. After 4 long weeks Riley came home first
followed by Reese 3 days later. Today the boys are 3 years old and attend the OB Prep Child Development Center.
Thank you walkers for all you do for babies like Reese and Riley!



Join us at Orangeburg-Calhoun, Orangeburg!
Join a team or start your own. We look forward to seeing you there!
at Edisto Memorial Gardens meet at the Art Center Shelter. There will be a 2 mile and a 4 mile route.
Other locations: