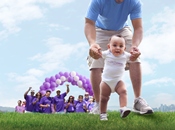 March for Babies - Hillsborough County 2013

Date:
Time: 8:30AM
Registration Time: 7:30AM
Tampa Bay Times Forum
401 Channelside Drive
Tampa, FL 33602

March for Babies Chair Deana Nelson invites you to celebrate with us as we walk 3.2 miles down Bayshore while raising valuable funds for stronger, healthier babies. There is something for everyone at the March for Babies including a DJ, a "Family Fun Area" with sports mascots, bounce houses and team photos.
In 2013, the March of Dimes marks its 75th anniversary. Celebrate with us by surpassing your fundraising goal to help more babies start healthy lives. Sign up on marchforbabies.org and take the Be Your Best for Babies challenge.

The nation's premier walking event, March for Babies is held in 778 communities across the United States and involves more than 7 million people each year, generating more than $1.5 billion for the March of Dimes over its 43-year history to support lifesaving research and programs.



Join us at Hillsborough County, Tampa!
Join a team or start your own. We look forward to seeing you there!
March for Babies - Hillsborough County

Not just another "walk", this event is the oldest national walk to benefit a non-profit organization in America.

For more information, email Janet K. Smith a
Other locations: