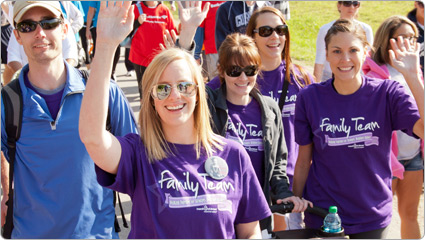 March for Babies - Bemidji 2013

Date:
Time: 10:00AM
Registration Time: 9:00AM
Bemidji State Univ Rec Ctr
1500 Birchmont Dr NE
Bemidji, MN 56601

Join your friends, family and co-workers in the Bemidji area and march for healthy babies! When you walk, you give hope to the babies born too soon or sick. The money you raise supports programs in your community that help moms have healthy, full-term pregnancies, and it funds research to find answers to the serious problems that threaten our babies.

Leading the charge in Minnesota is our March for Babies Chair Lawrence Massa, President and CEO of the Minnesota Hospital Association. MHA and its 144 hospital and hospital system members work each day to provide quality care for patients and meet the needs of communities in every corner of Minnesota. Lorry and his team are encouraging everyone to be their best for babies in 2013.

Meet our Ambassador Family
Chris and Rachael Jaranson walk in the March for Babies in memory of their daughter, Bella Jaranson of Bemidji. Bella was born last November with several birth defects including a diaphragmatic hernia, a chromosomal translocation and Bella was born with no pericardium sac around her heart.

The March of Dimes has led the way to discover the genetic causes of birth defects. In 1989, a March of Dimes grantee performed the first in utero surgery to repair a diaphragmatic hernia in an unborn baby.

At three days old, Bella underwent her first of many surgeries to begin to fix her diaphragmatic hernia and her parents are grateful to the March of Dimes for pioneering treatments in this field.

Bella came home in May 2012 in grand fashion with her own motorcade from Minneapolis to Bemidji. She passed away June 11th in Bemidji. Her family formed Team Bella Boo to honor their little fighter.

Join the March for Babies today! There are plenty of opportunities for day-of-event exposure, activation and education - not to mention opportunities to meet hundreds of others who are just like you!




Join us at Bemidji, Bemidji!
Join a team or start your own. We look forward to seeing you there!
.
Other locations: