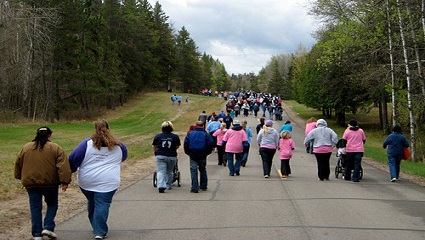 March for Babies - Brainerd 2013

Date:
Time: 10:00AM
Registration Time: 9:00AM
Forestview Middle School
12148 Knollwood Dr
Baxter, MN 56425

Join your friends, family and co-workers in the Brainerd area and march for healthy babies! When you walk, you give hope to the babies born too soon or sick. The money you raise supports programs in your community that help moms have healthy, full-term pregnancies, and it funds research to find answers to the serious problems that threaten our babies.

Tara Hemsing is serving as the chair for the Brainerd March of Dimes. Tara is a Financial Advisor with Thrivent Financial out of the Baxter, Minnesota office, where she helps people with protecting and planning financially. She enjoys being part of the Brainerd Lakes Area Women of Today where they help on many projects to help the local community. We are excited to have Tara working with us for stronger, healthier babies.

Meet our Ambassador Family
Taylor Obert was born too soon and too small in the fall of 2007. Born 15 weeks premature at St. Cloud Hospital, she weighed just 1 pound 13 ounces.

Taylor's mom Nina wasn't able to hold her until Taylor was two weeks old. "I was terrified," shared Nina.

When Taylor was just 18 days old she underwent heart surgery.

She spent the first 103 days of her life the newborn intensive care unit (NICU). The March of Dimes was there for Taylor by developing the concept of specialized care for sick newborns and pushing for NICUs in hospitals across the country.

The March of Dimes was there for Taylor with therapies to help her underdeveloped lungs. Our Nobel Prize-winning research offers hope of treatments and preventions for serious health problems, like birth defects and premature birth.

And the March of Dimes was there for Nina bringing information and comfort through our NICU Family Support Program at St. Cloud Hospital.

"Taylor has had numerous surgeries since she was born," shared Nina. "We were informed that there will be many ups and downs along the way and that has been so true for our family."

Today, Taylor is 5 years old and she is a trooper. She is a delight to her parents Nina and Adam and a great sibling to her sisters Natalie and Sydney. Her family shares her story to raise money and awareness of the March of Dimes work to improve the health of babies.

Join the March for Babies today! There are plenty of opportunities for day-of-event exposure, activation and education - not to mention opportunities to meet hundreds of others who are just like you!