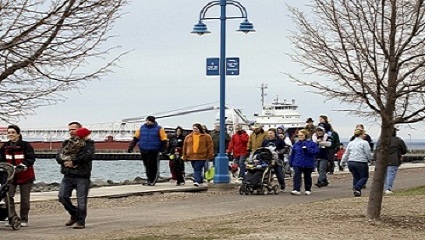 March for Babies - Duluth 2013

Date:
Time: 10:00AM
Registration Time: 9:00AM
DECC
350 Harbor Dr
Duluth, MN 55802

Join your friends, family and co-workers in the Northland and march for healthy babies in Duluth! When you walk, you give hope to the babies born too soon or sick. The money you raise supports programs in your community that help moms have healthy, full-term pregnancies, and it funds research to find answers to the serious problems that threaten our babies.

Leading the charge in Duluth as the 2013 March for Babies Chair is Dr. Gary Peterson, Medical Director, Vice President of Medical Affairs for St. Luke's Hospital. It takes leaders in our community working together to ensure moms have healthy pregnancies and we applaud Dr. Peterson's efforts, the staff and administration at St. Luke's for supporting this endeavor during the March of Dimes 75th anniversary.

Our ambassador family also has strong ties to St. Luke's. Kelly Alvar is a nurse at St. Luke's. Kelly and her husband Nate walk in the March for Babies in memory of their sons Isaiah, who died as an infant of severe birth defects, and Mason, who died as an infant from extreme prematurity. It is also in honor of their sons Jonas, a healthy, thriving four-year old, and Elias, a happy, healthy 7-month old.

There are plenty of opportunities for day-of-event exposure, activation and education - not to mention opportunities to meet hundreds of others who are just like you!