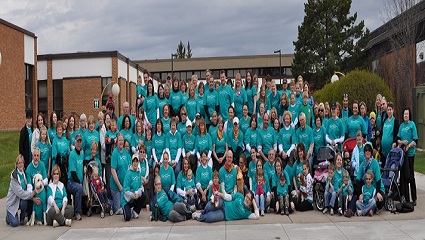 March for Babies - Virginia 2013

Date:
Time: 9:30AM
Registration Time: 9:00AM
Mesabi Range Comm & Tech Coll
1001 Chestnut St W
Virginia, MN 55792

Join your friends, family and co-workers in Virginia and march for healthy babies! When you walk, you give hope to the babies born too soon or sick. The money you raise supports programs in your community that help moms have healthy, full-term pregnancies, and it funds research to find answers to the serious problems that threaten our babies.

Debra Boardman, President and CEO of Fairview Range, knows how important the March of Dimes mission is. She has taken on the role of March for Babies Chair to raise awareness and important funding to provide for babies who are born prematurely or with birth defects.

"At Fairview Range we put our patients first. This campaign gives us the unique opportunity to help our community right from the start," said Boardman. "It is never acceptable for even one baby to be born prematurely, and it takes the whole community working together to ensure moms have healthy pregnancies."

Randy and Carrie Werdier are serving as the ambassador family with their son Adrian. Adrian was born 15 weeks early at Fairview Range, where Carrie also works. Adrian spent twelve weeks in the newborn intensive care unit. Today, Adrian is a happy, healthy boy who is about to turn two years old.

There are plenty of opportunities for day-of-event exposure, activation and education - not to mention opportunities to meet hundreds of others who are just like you!



Join us at Virginia, Virginia!
Join a team or start your own. We look forward to seeing you there!
.
Other locations: