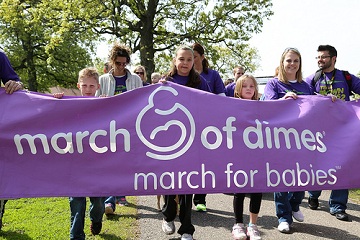 March for Babies - Minneapolis/St. Paul 2013

Date:
Time: 11:00AM
Registration Time: 10:00AM
Como Park
1199 Midway Pkwy
St. Paul, MN 55103

Join your friends, family and co-workers in the Twin Cities and march for healthy babies! When you walk, you give hope to the babies born too soon or sick. The money you raise supports programs in your community that help moms have healthy, full-term pregnancies, and it funds research to find answers to the serious problems that threaten our babies.

Leading the charge in Minnesota is our March for Babies Chair Lawrence Massa, President and CEO of the Minnesota Hospital Association. MHA and its 144 hospital and hospital system members work each day to provide quality care for patients and meet the needs of communities in every corner of Minnesota. Lorry and his team are encouraging everyone to be their best for babies in 2013.

Two families are serving as ambassadors in the Twin Cities. Born 16 1/2 weeks early, Gertie Guille weighed 1 pound, 7 ounces. In the 136 days Gertie spent in the newborn intensive care unit, she benefitted from numerous March of Dimes-funded breakthroughs and treatments. Today, Gertie is a happy, giggly little girl who is about to be a big sister. Her parents Mike and Cyndy walk in the Minneapolis/St. Paul March for Babies to celebrate Gertie's success and help other families.

Scott and Amanda Hedin walk in March for Babies in honor of one daughter and in memory of another. Life-threatening complications caused twins Reagan and Eden to be born 3 months premature. Eden weighed one pound at birth; Reagan weighed 2 pounds, 5 ounces. Reagan grew bigger and stronger during her 7 months in the NICU. Eden faced more obstacles and passed away at 8 months of age while waiting for a lung transplant. "We miss Eden so much and wish everyday that she was here with us," said Amanda. Today, Reagan is a 2 ½ year-old curious, sweet and loving child. Amanda and Scott turned their grief into action by supporting March for Babies and creating Eden's Garden, an organization designed to keep Eden's legacy alive and to help families like theirs.

There are plenty of opportunities for day-of-event exposure, activation and education - not to mention opportunities to meet hundreds of others who are just like you!