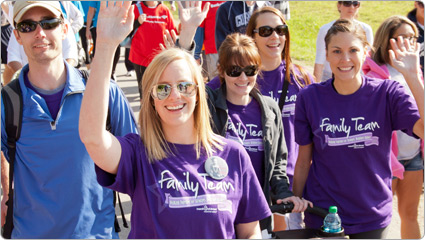 March for Babies - Southwestern MT 2013

Date:
Time: 10:00AM
Registration Time: 9:00AM
Lindley Park
900 E Main Street
Bozeman, MT 59715

Join us on Saturday May May 11th at Lindley Park. We will have music from Bozeman DJ, and emcee Dia from 9 Country.
Registration starts at 9am. There is no minimum amount you have to raise to participate, we started by collecting dimes and you can too! Individual incentive of $200 is a walker t-shirt. Money can be turned in at bank night or day of the walk. (see information below). Join us Saturday, May 11th at Lindley Park. Registration is at 9am, Opening Ceremony around 9:45am, walk starts at 10am and is a trail s

Walk starts at 10am and is about 3 miles long on Bozeman Trail. Trail is dirt, and strollers are welcome.
Awards, BBQ and kid fireldy activites including face painting, bouncy house, and Star Wars Characters!

Need extra materials?

Walker Station- Acorn Pediatrics
Monday - Thursday: 7:00 AM - 7:30PM
Friday: 7:00 AM - 5:30 PM
Saturday: 9:00 AM - 2:00 PM
280 W KAGY, SUITE G (2nd Floor) Bozeman, MT 59715
Come grab materials like hard copy of team packets, posters, walker BROCHURES, and coin banks.

Bank Night
Friday, May 10th, 2013
Holiday Inn Bozeman Lobby, 4:30pm-7pm
Come turn in money and get walker t-shirt ($200 incentive)

Questions contact Community Director, Christina Klekner at 406-206-1686 or cklekner@marchofdimes.com


Join us at Southwestern MT, Bozeman!
Join a team or start your own. We look forward to seeing you there!
Join us on Saturday May May 11th at Lindley Park. We will have music from Bozeman DJ, and emcee Dia from 9 Country.
Registration starts at 9am. There is no minimum amount you have to raise to participate, we started by collecting dimes and you can too! Individual incentive of $200 is a walker t-shirt. Money can be turned in at bank night or day of the walk. (see information below). Join us Saturday, May 11th at Lindley Park. Registration is at 9am, Opening Ceremony around 9:45am, walk starts at 10am and is a trail s

Walk starts at 10am and is about 3 miles long on Bozeman Trail. Trail is dirt, and strollers are welcome.
Awards, BBQ and kid fireldy activites including face painting, bouncy house, and Star Wars Characters!

Other locations: