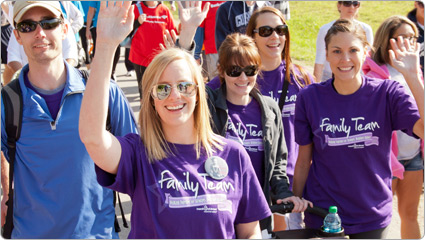 March for Babies - Clermont County 2013

Date:
Time: 9:00AM
Registration Time: 8:00AM
Miami Meadows Park
1546 State Route 131
Milford, OH 45150

Join us on Saturday, April 27th at Miami Meadows Park in Milford as we march for stronger, healthier babies! Registration begins at 8:00am and the walk will begin promptly at 9:00am. Enjoy food, fun, and entertainment for the whole family! Breakfast and lunch will be provided and kids of all ages will enjoy our Kid's Zone, an area with bounce houses, games, entertainers, and more! The walk is a beautiful 3 mile walk. Bring your family, friends, and coworkers and join us as we celebrate our 75th Anniversary! More than 4 million babies are born in the United States each year and the March of Dimes helped each and every one through our research, education, vaccines and breakthroughs. Join the March!


Join us at Clermont County, Milford!
Join a team or start your own. We look forward to seeing you there!
Main Entrance
Other locations: