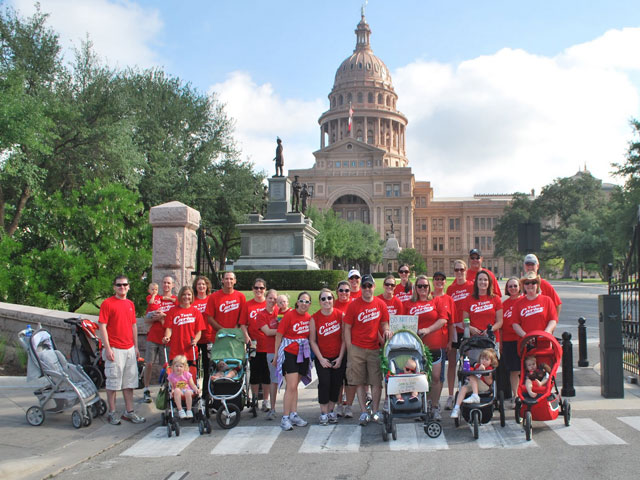 March for Babies - Austin 2013

Date:
Time: 9:00AM
Registration Time: 8:00AM
Auditorium Shores
400 W Riverside Drive
Austin, TX 78704

It's America's favorite walking event! When you walk, you give hope to the babies born too soon or sick. The money you raise supports programs in your community that help moms have healthy, full-term pregnancies, and it funds research to find answers to the serious problems that threaten our babies. We've been walking since 1970 and have raised an incredible $2.6 billion! Join the more than 7 million people who participate, donate and/or sponsor. There are plenty of opportunities for day-of-event exposure, activation and education - not to mention opportunities to meet hundreds of others who are just like you!

Driving:
For those driving, parking will be available at Palmer Events Center and Austin Convention Center for $7 per vehicle and One Texas Center where cost is based on length of stay. Please consider carpooling with friends so there is enough parking for everyone.

DO NOT try to enter through Riverside it will be shut down and that is no way to start off a great day!

Although it is tempting please DO NOT Park at Hooter's, Auditorium Shores lot, Homestead Hotel or in the neighborhoods. You most likely will be towed and that is no way to end a great day.

Via Bus:
Capital Metro routes 5, 10, and 30 will get you closest to the start point of the event. Have the operator let you off at one of the bus stops at South First and Barton Creek, nearest to the Whataburger. For connections or scheduling information, go to www.capmetro.org.

Via Bike:
We encourage the use of pedal power. For those wanting to bike to the event, bike racks will be available near the back of the property between the parking lot and EMS tent. Don't forget to bring your locks!

Wanting to use the trails to get there? Go to http://www.ci.austin.tx.us/parks/trails.htm


Join us at Austin, Austin!
Join a team or start your own. We look forward to seeing you there!
Park is located at the corner of S. 1st and Riverside on the south shore of Lady bird Lake. Parking is available at the Palmer Events Center, Austin Convention Center and One Texas Center.
Other locations: